This was one of my predictions for the year 2005 that I was prayed I would be 100% wrong.
As you must know by now Pope John Paul have passed away.
On October 16, 1978, he became Pope. The only reason that I know the year is because I was in the middle of my marathon ten speed bicycle trip across the U.S.A.!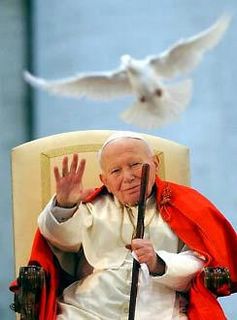 Pontiff and the Dove

One of the first action that grabbed my attention was the fact that he played different sports and loved to ski! A Pope playing sports? A high energizes spoke person from God?

I would always say that this Pope had ADHD big times. There's no way in the world that he would stay in the Vatican as many other Popes in the past!

As I wrote in the past. ADHD is suppose to be a benefit and not a Disorder!

Travel the world he did in a remarkable fashion. He visited over 100 countries to preach the message of the Lord.

He spoke out loud and clear against Abortion and the issue of the poor around the world. He was the voice of many lost souls.

Yes, he was a great Pope but as we all know - No one is perfect!

His failure to acknowledge at a much faster of the sex scandal in the U.S.A. was a minus and also to recognizes the rights of Women in the Priesthood!

Aging never stop the Pope. Who will ever forget the last sad pictures of John Paul from his window in Rome? He didn't hide the fact that he was dying and wanted to share this so call personal information with the whole world!

Many people around the Globe have only known one Pope so therefore he was special in many youths hearts!

Yes! We lost a great man and we will never see the likes of this Pope Again!

We have lost a great uniter of Religions and spoke person!

May God Bless his soul and I am certain that he will!!!